London International Mime Festival is back, and we can't wait for Theatre Re to premiere their new show Bluebelle! We spoke to the company director, Guillaume Pigé, about ancient folktales and creating the new show.
Can you tell us about Bluebelle and the inspiration for the piece?
Bluebelle is a new folk-inspired tale – as much as any tale can ever be new – intertwining, transforming and re-inventing numerous motifs, objects, and characters from ancient folktales.
It is about being a parent, about life and how to protect it. It is also about stories and our profound need for poetry and magic. It unravels our desires, our weaknesses, and ultimately our strength and ability to care for those born after us.
Our exploration started with the question: Why theatre? Over three years, our journey took us from corporeal mime to clown work, from imaginative transformation to visual vernacular, from rich musical textures to sound design, from philosophy to silliness, and from real life experiences – gathered through interviews with parents and carers – to ancient folktales.
Why did you choose Bluebelle as a title?
The idea of playing with a flower as a metaphor stemmed from a costume design workshop with Emma Tompkins where she asked the performers to design and make the costume of their character out of brown paper. Giulia del Fabbro (playing the character of Bluebelle) made an umbrella, but we all thought it looked like a flower and that's how it started.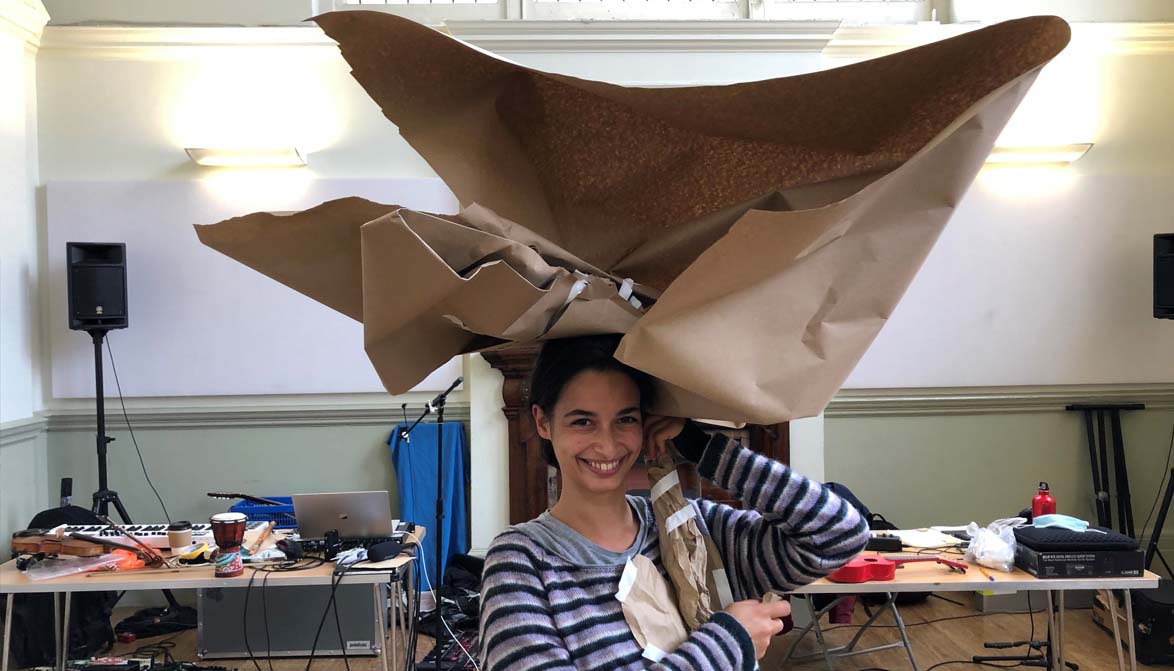 It very quickly became a blue flower in reference to the German Romantic Poet Novalis. We then had cornflowers in the room for a long time and the show nearly became 'The Cornflower Girl'. But then spring came and along with it carpets of bluebells. I looked into it, and learned about the Bluebell fairies and how they hang their spells on bluebells. I was sold!
The extra 'e' is a play on words to reference both the flower and our heroine. It is also a reference to how other names within the folktale tradition are being constructed with a colour and an item such as Bluebeard or Red Riding Hood.
Finally, there is also the idea that some of these tales are named after their main character and it's often a strange extraordinary name that has multiple layers of reading like Cinderella (reference to ashes) or Rapunzel (reference to vegetable)…etc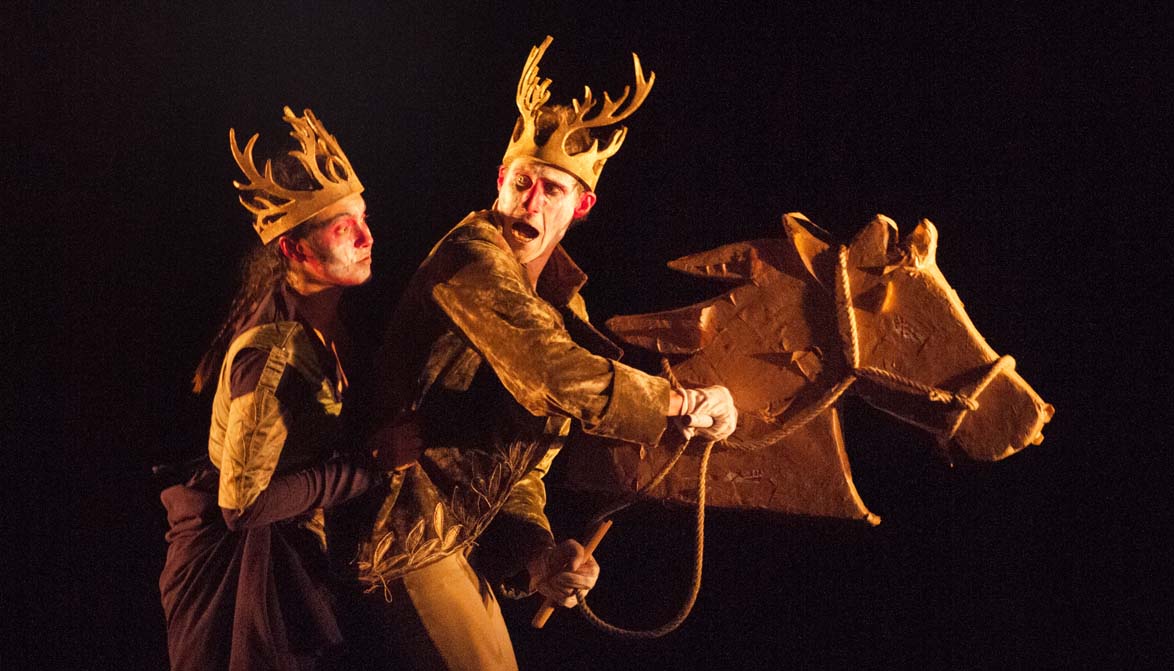 You conducted interviews with parents and carers to inform the show – how did you go about these and can you tell us a little about what you learnt?
Throughout the process we have been very keen to explore the themes of responsibility, care, over protection, guilt and continuance, or in other words what one would want to pass on to their children.
We collaborated with the Fertility Network to explore the struggle to conceive and the impact that it can have on individuals and couples. We engaged with groups of carers to explore the notion of care and our relationship to those we love. Through an open-call, we also interviewed parents at various stages of their parenting journey.
These conversations had a crucial influence on the development of the work and have allowed us to ground our discoveries and make connections with real life experiences.
It is important to mention that, just like with every other Theatre Re production, we are not making Verbatim Theatre so none of the words, characters and personal stories are being used on stage.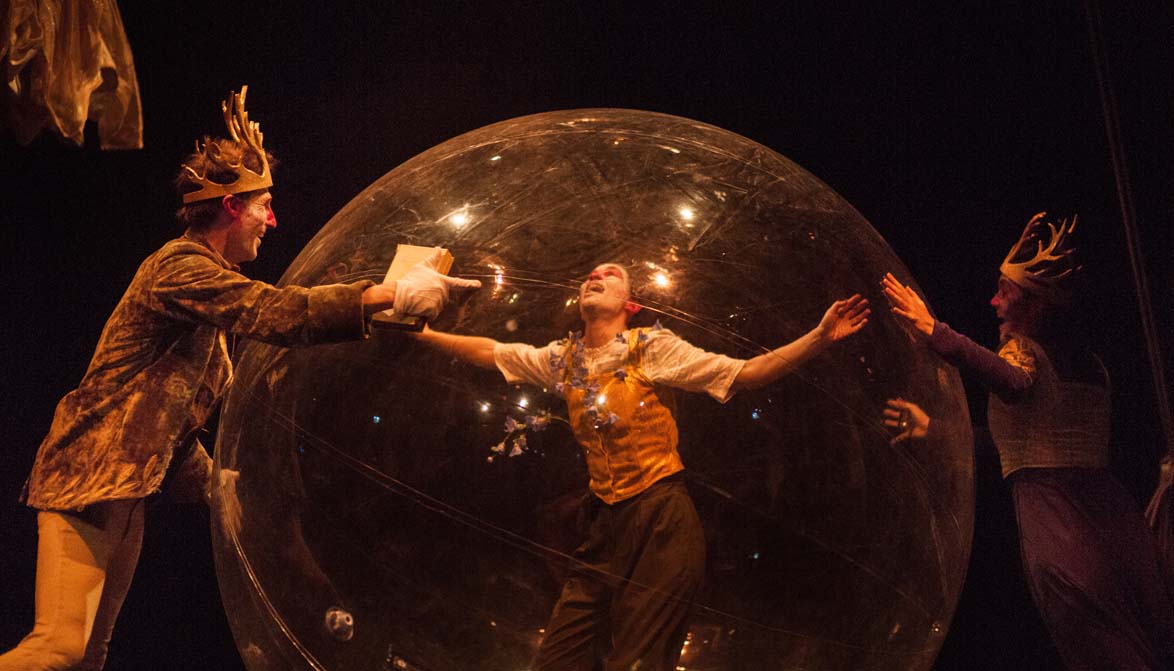 Can you tell us a bit about the workshop you have coming up, From Actor To Mime, and what participants can expect?
From Actor to Mime will be an intensive Theatre Re boot camp, focusing on the balance between spontaneity and technique in actor training and how one leads to the other and vice versa.
Through the rigourous study of Etienne Decroux's Corporeal Mime repertoire and technique, as well as improvisation and composition, we will learn how to play with physical shape, space, rhythm and weight to allow inner impulses to flow into expression. We will look at how to move from action to poetry and explore how to be both real and abstract on stage.
Finally, what is your favourite folktale?
Pinocchio
You can see Bluebelle on 13 – 16 January 2022, book here. To take part in the From Actor To Mime workshop on 17 – 21 January, book here.