It goes without saying that lockdown has had an indescribable impact on us all across the UK. It's now more important than ever to think about how this has and will affect the lives of people from all walks of life. Access All Areas make disruptive theatre and performance by learning disabled and autistic artists, so their brand new experience, Still, Here, explores learning disabled life in Lockdown and beyond.
We spoke to Still, Here co-directors Helen Bryer, Director of Take Part and Train, and Adam Smith, Trainee Co-Director of Take Part, both from Access All Areas to find out more about the piece and how creativity has changed in a world of social distancing and Zoom.
How would you describe the experience that is Still, Here?
Helen Bryer (Henceforth HB): Still, Here is an audio exhibition around Hackney. Over eight stops, audiences can listen to artists describing their experience of lockdown, the places they've missed, and their hopes for the future. It's a chance to get out and about, have a walk around the borough, and listen to voices and perspectives you might not usually hear.
Adam Smith (Henceforth AS): For me it's an honest experience – we delved into how learning disabled people feel about lockdown and how it's affected their mental health and their everyday routine. I hope it's educational for the audience to re-live the lives of learning disabled and autistic people during the lockdown and see their viewpoint in its rawest form.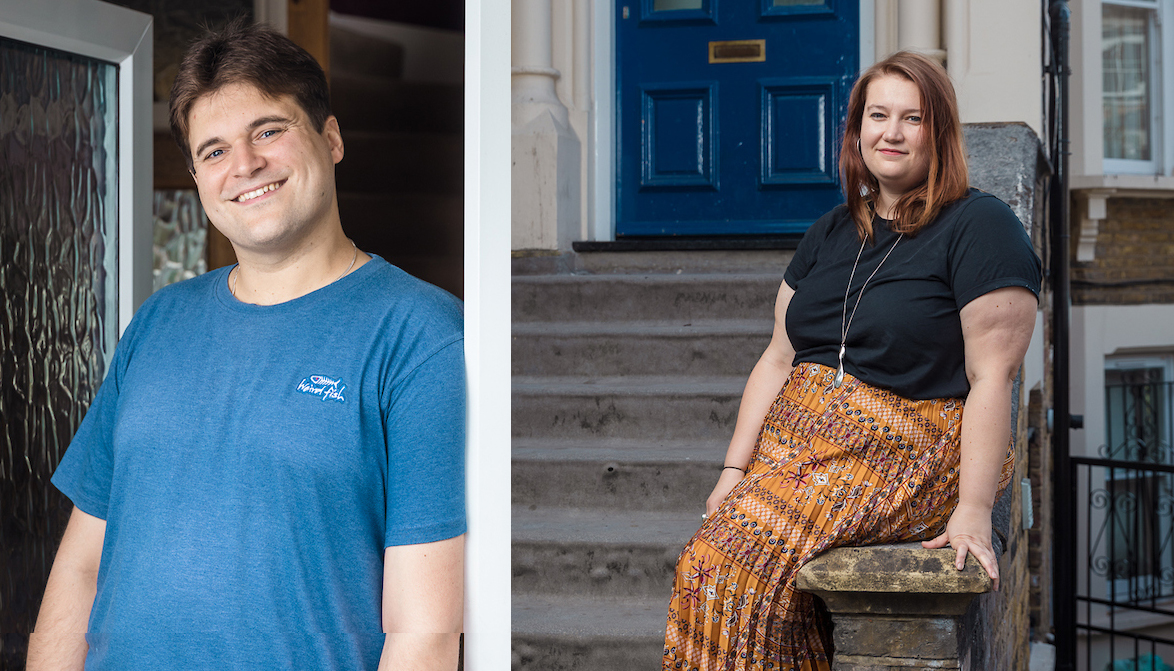 Pictured above: Adam Smith (left) and Helen Bryer (right)
What made you decide to work on a piece about exploring learning disabled life in lockdown?
AS: During the lockdown we had check in phone calls and online sessions with participants from Black Cab who are involved in the project. Their comments about Hackney and lockdown were heart-warming and expressive so that was one of the reasons why we wanted to create a piece about how much they love and miss Hackney.
HB: We also felt it was important to remind people that their learning disabled and autistic neighbours are literally 'still here'. Some are still shielding, some are feeling more isolated than ever and many are worried about the future. As things return to 'normal' in the future, we felt it was important to remind people that some will still be socially isolated for a long time to come. Having said that, our conversations with the Black Cab Company artists have shown some real positives too- quieter streets, a slower pace of life, greater empathy and community spirit…so we wanted to share and celebrate that too.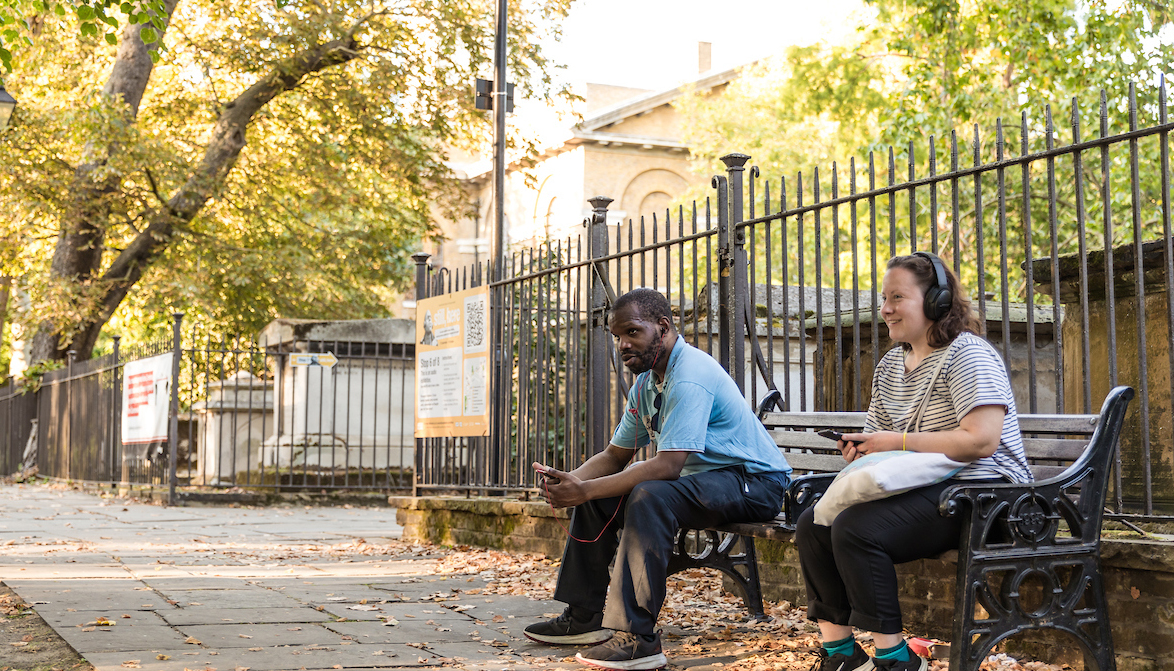 Can you tell us about the artists who have taken part in the project?
HB: Black Cab Company are a Hackney-based group of learning disabled and autistic community artists. The company has been making theatre in the borough since 1976 so East London is a huge part of our identity, as well as a passion for making original, edgy work which tells stories about learning disabled and autistic people's lives. Still, Here features the voices of ten Black Cab artists, all with their own unique voices.
AS: There's a real mix of different artists. Some are poets, some are storytellers, and some love to express themselves through theatre and acting. Each individual has their own story of lockdown and their own way of expressing it. There is a great energy within the artists that you will hear during the exhibition and we are really excited for the audience to listen to their stories in a new medium.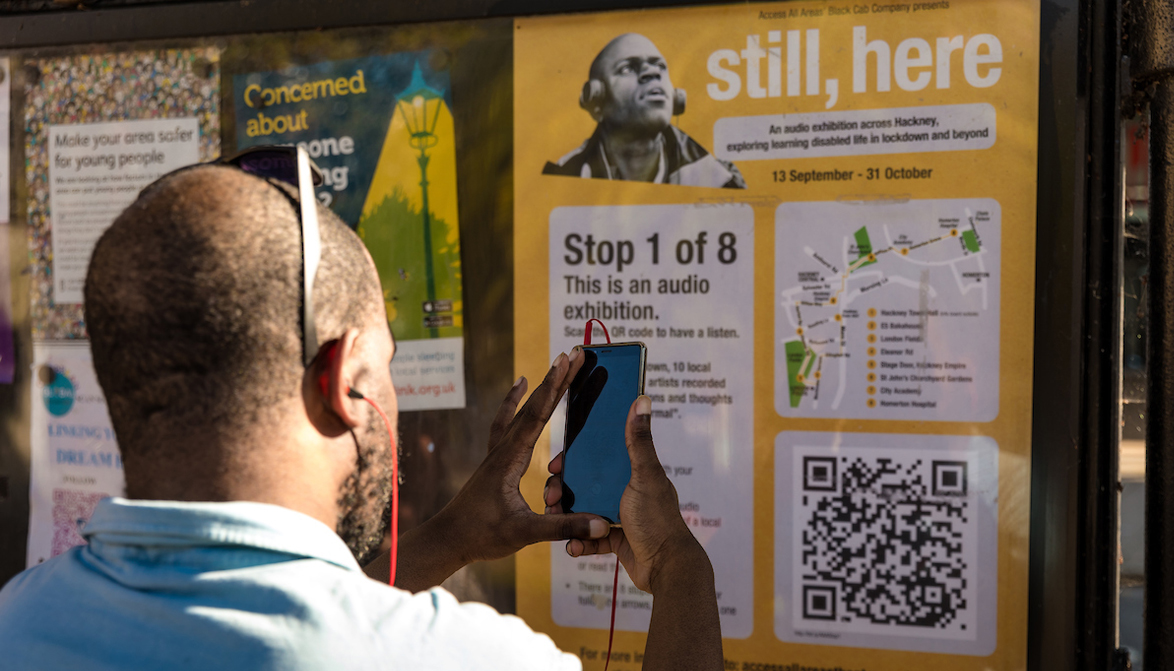 How did you work together on this as a company and how was this different to artistic processes before March 2020?
HB: It's been a learning curve! The audio for Still, Here was made entirely from our homes- via Zoom, phone calls and recording using mobile phones and iPads. It's involved a lot more 1:1 work than usual- we're used to all getting together as a company and working things out together but using Zoom we found that working in smaller groups made a lot more sense. So for me it's actually been lovely as I've been able to get to know the artists better and spend really focused time with each person to get their best work.
AS: We worked on Zoom with the artists and encouraged them to create a spoken word, speech, script or monologue using their experiences of Hackney and their lives during lockdown. I worked with my artists by thinking about smells, sounds and the sights they experienced during this time. If we were working face to face we would have worked together more and shared more ideas but online we were more separated. Working online is very different (internet problems can be distracting!) but I feel like I've learnt some new skills as a facilitator.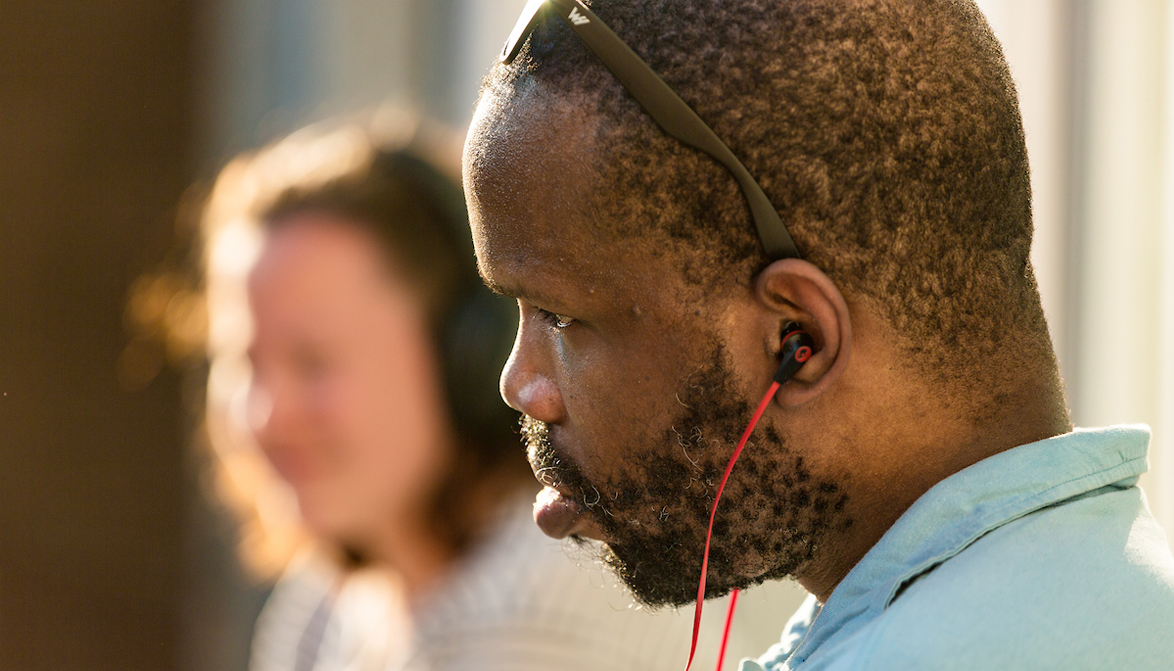 Why did you choose Hackney? And how did you decide on a route, are specific locations important to the artists that speak?
HB: As a company, Hackney is our home. When we were talking to the artists at the beginning of lockdown, we kept hearing how much people were missing those familiar places- where we meet for workshops, where they get the train, the buildings they pass on the way to rehearsals. So it made sense! We chose the route based on discussions with the whole company. Some places, like Hackney Town Hall, came up again and again, so we knew it had to be included. We also wanted the route to be an interesting mix of locations for audiences, with some places to eat and drink along the way!
AS: The artists perform at Hackney Carnival every year. As it couldn't happen this year we felt it was important to still celebrate Hackney. The stops represent something to each artist – they are almost metaphors for their various subjects. Hackney has a collage of old and new buildings so there is so much character for the artists to work with and connect with spiritually!
How can audiences access the performance?
AS: All you will need is a smart phone and headphones! Each stop is clearly signposted with all the information you'll need and has an individual QR code. The audience can scan the QR code which will take them to the audio from the artists with captions and audio description included.
HB: The entire route takes about 90 minutes, but the stops also stand alone so you can do one at a time if you like. The whole route is wheelchair accessible and every stop includes audio description and captions.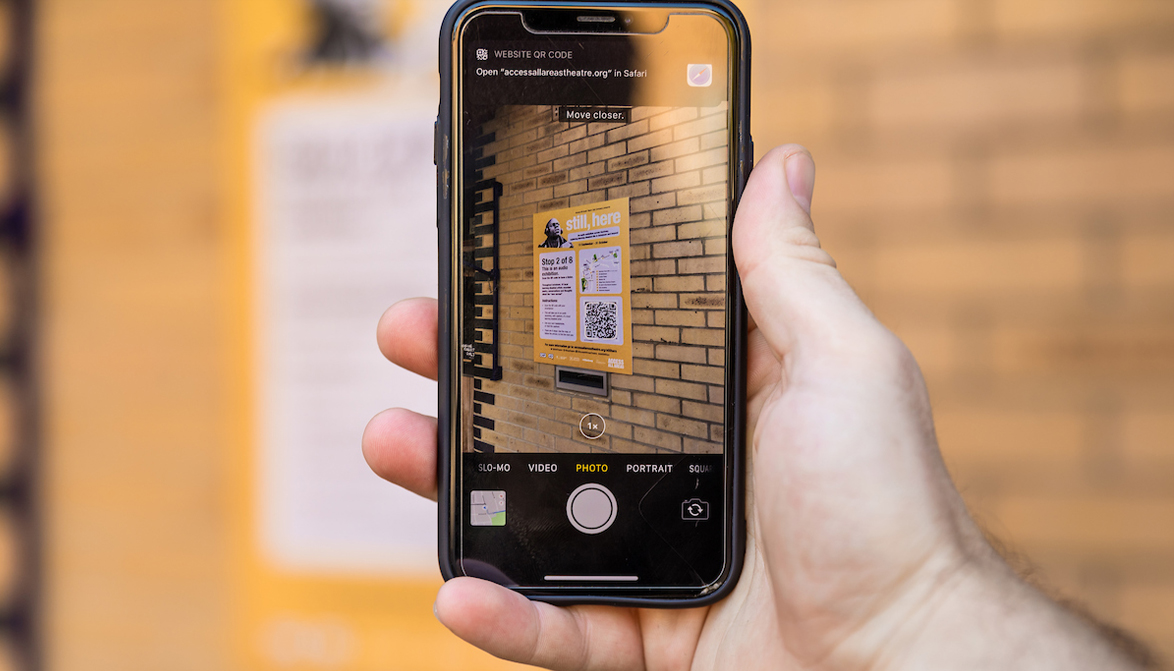 What do you hope audiences will take from the experience?
HB: I hope people will see things through new eyes and hear some new perspectives. I also hope audiences enjoy getting out and about and enjoying some culture in a safe, socially distanced way.
AS: I want audiences to understand that lockdown has been extremely challenging, unexpected and life changing for learning disabled and autistic people. I want people to connect with the artists' perspective and realise that we are all in this together and no one should feel that they are alone.
Huge thanks to Adam and Helen for speaking with us! To find out how you can experience Still, Here, visit this webpage.
Still, Here is commissioned by Chats Palace; presented in association with Shoreditch Town Hall as part of Hackney Carnival.
All photography by The Other Richard.