Kneehigh's Katy Owen speaks about playing the leading role of Mr Ubu in Kneehigh's Ubu! A Singalong Satire. Katy has worked with Kneehigh for the last 6 years, having played Rebecca in 946 – The Amazing Story Of Adolphus Tips as well as the titular role in Ubu!, and also has extensive experience working with Shakespeare's Globe Theatre.
Who is Ubu?
In our story, he is a vulgar, greedy, sadistic, grotesque, cowardly and very, very stupid army deserter who has been living in the 'sewers of life' with his manipulative and ambitious wife. They have run out of money and have come to the utopian town of 'Lovelyville' under the guise of becoming 'lovely, honest citizens'…..
How did you develop the character of Ubu?
I read the original story by Alfred Jarry to get a feel for him. I always take some key words that I think will be useful, interesting and contrasting (for the comedy) and use those as a basis. I really liked that he could be violent in one moment but totally cowardly in the next. I liked his complete stupidity coupled with his ability to sing an offensive, vulgar song to make you laugh.
Then we began improvising. I am from Cardiff and thought that accent suited him best, it lends itself to the musicality of his nonsense. As we began to improvise and the character felt clearer to me a strange physicality sort of followed, which continues to surprise me and develop as we go along. We are definitely not in the world of naturalism; we are in the world of buffoon and grotesque so you can be extreme with your choices. Which is brilliant but by basing him in my hometown and on characters I've really encountered, hopefully he's also plausible and real.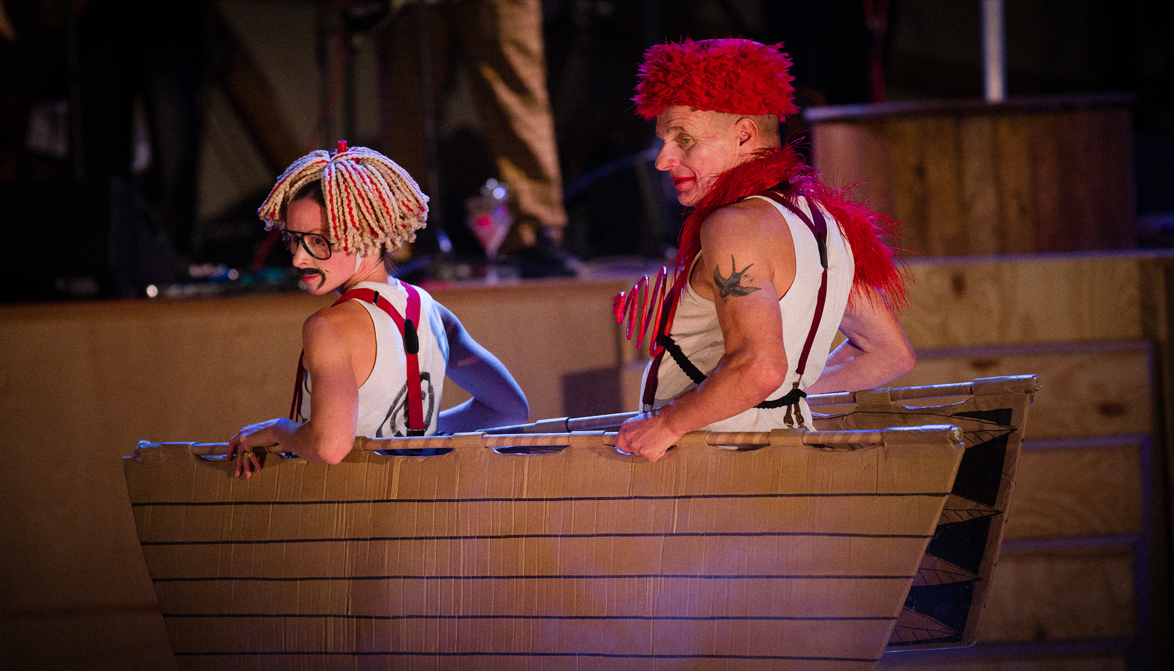 Your character involves a lot of improvisation, how do you prepare for this?
I try not to get too tense before a show. To improvise well I think you have to be in a sharp but silly state of mind. A big part of you has to be willing to take wise risks and not to give too much of a monkeys if something goes a little 'off piste'. You also have to have a lot of trust for the people on stage with you, they can always bring you back if you go bananas and vice versa.
Do you have any tips for improvising on stage?
I think it's really important to know where the focus needs to be. Identify the moments where you can really launch and be anarchic or risky and identify the moments where the focus needs to shift back onto another performer or part of the story. I love playing with a live audience, I love involving them in the show but again identify those who are willing and don't pick on someone who will hate it or feel humiliated. Also, don't take yourself too seriously, if you try something and it fails – get over it quickly and move on.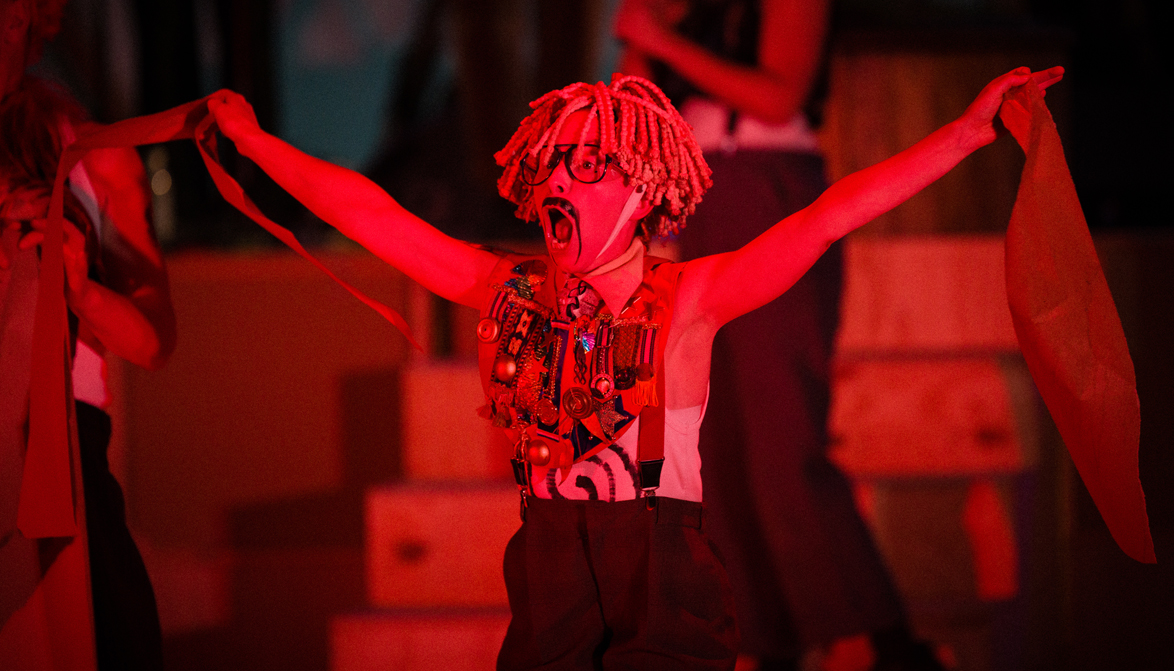 How do you interact with the audience in the show?
The audience are the show really. They play the citizens of Lovelyville and (without giving too much away) they sing, dance, fight and shout their way through a most joyful and vital protest.
Don't miss Kneehigh's Ubu! A Singalong Satire at Shoreditch Town Hall on Wednesday 4 – Saturday 21 December 2019. Tickets can be booked here.