Dates and Times
Saturday 23 April: 1.30pm, 4pm, 7pm (Celebration Night)
Tuesday 26 April: 7pm, 9.15pm
Wednesday 27 April: 3.30pm, 7pm, 9.15pm
Thursday 28 April: 3.30pm, 7pm, 9.15pm
Friday 29 April: 7pm (Enhanced by Extant), 9.15pm
Saturday 30 April: 3.30pm, 7pm
Click here for exhibition opening times.
Tickets
£16 (£12 concessions)
Running Time
Approx. 75 mins
Age Guidance
12+
Warnings
Contains some swearing, mild drug references, outdated views (including racism) presented in a historical context
Category
Theatre and Performance
Space
Council Chamber
No one knows how many Japanese women live in the UK.
No one knows their reasons for moving here.
No one knows their varied loves or hates, their achievements or mistakes, their opinions and contradictions.
No one knows their stories...
So we asked them.
Four Japanese women are your tour guides on a kaleidoscopic journey across continents and decades, from Shōwa era Japan to the bedsits of 90's London, via the Empire Windrush's final voyage and present-day immigration nightmares.
Memories. Fears. Aspirations. The women reveal the complex, multi-layered reality of migrants reconciling with rootlessness.
"What price must we pay to create a third space, in neither one nation nor the other, where we finally have room to be ourselves?"
Where exhibition meets performance, Tsunagu/Connect Live is an immersive promenade adventure, inspired and informed by the stories of women who were born in Japan but who have settled in the UK since 1945.
Tsunagu/Connect Live is a promenade performance, which means you will be moving around the space while action happens around you. This means there will be limited seating available.
Co-created by Kumiko Mendl (The Last Days of Limehouse) and Kazuko Hohki (Evidence for the Existence of Borrowers). Design by 2019 Linbury Prize Winner TK Hay (An Adventure). Stewart Melton (Islander) as dramaturg and contributing playwright. Sound Design by Tingying Dong (After The End), Lighting Design by Nao Nagai (Trouble in Mind), Movement Direction by Sachi Kimura (GLOW)
Tsunagu/Connect: Exhibition
To find out more about visiting the accompanying exhibition, which is free and open to the general public, please click here.
Celebration Night
Saturday 23 April, 7pm
Join New Earth Theatre for a Celebration evening as we toast the volunteers, collaborators and supporters who have brought Tsunagu/Connect Live to life.
Watch the show, take in the exhibition, meet the cast and interviewees together and try your hand at karaoke if you fancy! All tickets are £36, which includes your ticket to the show, goodie bag, a welcome drink and snacks; all the while supporting New Earth Theatre's work bringing British East and South East Asian voices to the stage.
Workshops
These free workshops can be booked in addition to your ticket to Tsunagu/Connect Live. Just add them to your basket when prompted.
Wednesday 27 April - 12.30pm, FREE
Recording Your Stories: A workshop for all ages
Join the New Earth Theatre team in this workshop to learn more about 'oral history' and recording your own stories and memories inspired by the themes of Tsunagu/Connect Live.
Thursday 28 April - 12.30pm, FREE
Storymaking with Kazuko Hohki
Participants are invited to bring along an object that is special to them and discover storymaking with artist and theatre maker Kazuko Hohki.
Enhanced by Extant
Friday 29 April - 5pm, FREE, 60 mins
The 7pm performance of Tsunagu/Connect Live on 29th April will be Enhanced by Extant – This means there will be live accessible programme notes and a touch tour describing the set, props and characters before the performance starts for visually impaired audiences.

To book, you can add tickets directly to your basket or you can call 020 7739 6176 or email info@shoreditchtownhall.com
Merchandise
Postcards: Delve into five augmented reality scenes inspired by the women interviewed for Tsunagu/Connect Live, with postcards created by artist Natsko Seki. When the back of the postcards are scanned using the camera on a computer, tablet or smartphone, they will activate a 3D model and trigger the augmented reality scene. Each postcard tells a unique story. £3 each or get all 5 for £10.
Pin Badge: Also designed by Natsko Seki, inspired by the show poster. Materials are nickel plated metal, with a butterfly clutch fitting, 50 x 21.3mm. £4.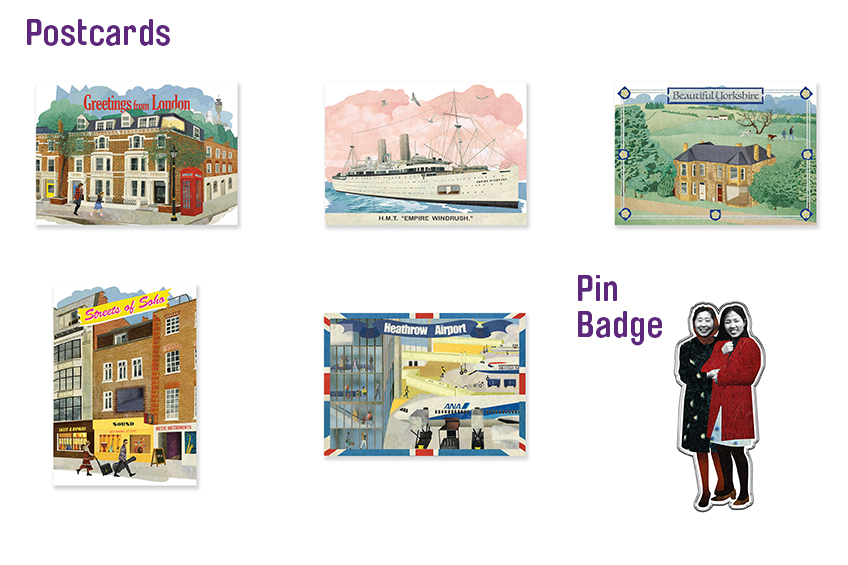 Postcard: Greetings from London
From a lonely bedsit in West London, Japanese student Mayumi sends a cheerful postcard home to her parents in Japan.
Postcard: Empire Windrush
Newlywed Fumiko is moving to England with her new husband Kenneth on the Empire Windrush. An upbeat message to her parents belies the uncertainty she is feeling.
Postcard: Beautiful Yorkshire
Busy fixing up her new house, Mirai is full of lists and plans for the future.
Postcard: Streets of Soho
Composing lyrics in her off time, musician and sound engineer Rin must suffer the men she encounters in the recording studio.
Postcard: Heathrow Airport
Acting student Junko dreams of becoming a star, but first she has to overcome the challenges of an immigration interview.
All merchandise will be available to purchase on your visit in addition to online.
Made with support from Shoreditch Town Hall, Japan Society and Museum of London.
Funded by National Lottery Heritage Fund, Arts Council England and The Great Britain Sasakawa Foundation.
Covid-19 Safety Measures
We will be taking extra precautions to ensure the safety of everyone in the building, and have several Covid-19 Safety Measures in place, which you can find here.