We spoke to Geraldine Pilgrim, Artistic Director of Geraldine Pilgrim Performance Company and creator and leader of Mountview's MA Site-Specific Theatre Practice course, about Handbag, her celebratory participatory performance which she brought to Shoreditch Town Hall in early October 2019.
Where did the concept for Handbag come from?
I was first asked to come up with an idea for a participatory performance in Battersea Arts Centre's Grand Hall that could be rehearsed in one or two days. I made a site visit but nothing came to mind and just as I was about to say that sadly I had to give this one a miss, a woman walked into The Grand Hall and put her handbag down and an idea was born.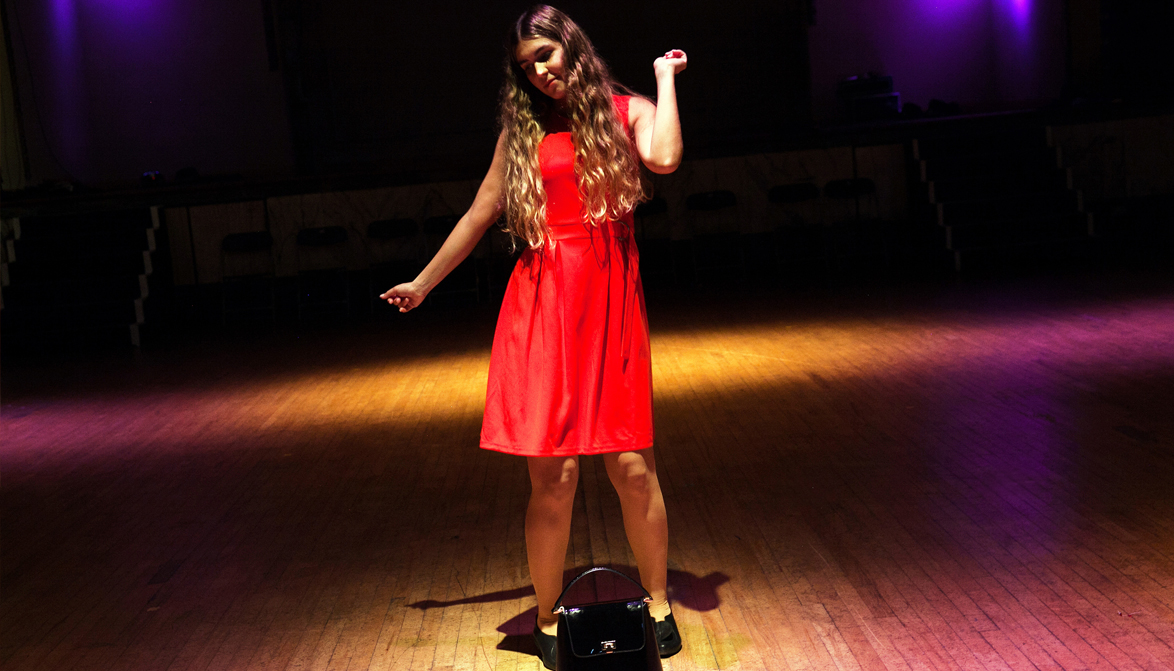 How over the years of performing Handbag at various venues has the show changed/evolved?
The basic concept of women simply dancing round their handbags has never changed but where they enter and exit from and how they fill the space is very different every time, due to the architecture and nature of each venue. When Handbag also started being commissioned for outside performances in parks and festivals different exterior version was created based around the same principle. However, the image with male performers constantly evolves every time we do it, depending on how many men are recruited and the site itself. The men become stage technicians in theatre venues and hi-viz jacketed security guards or gardeners in parks and other outside spaces.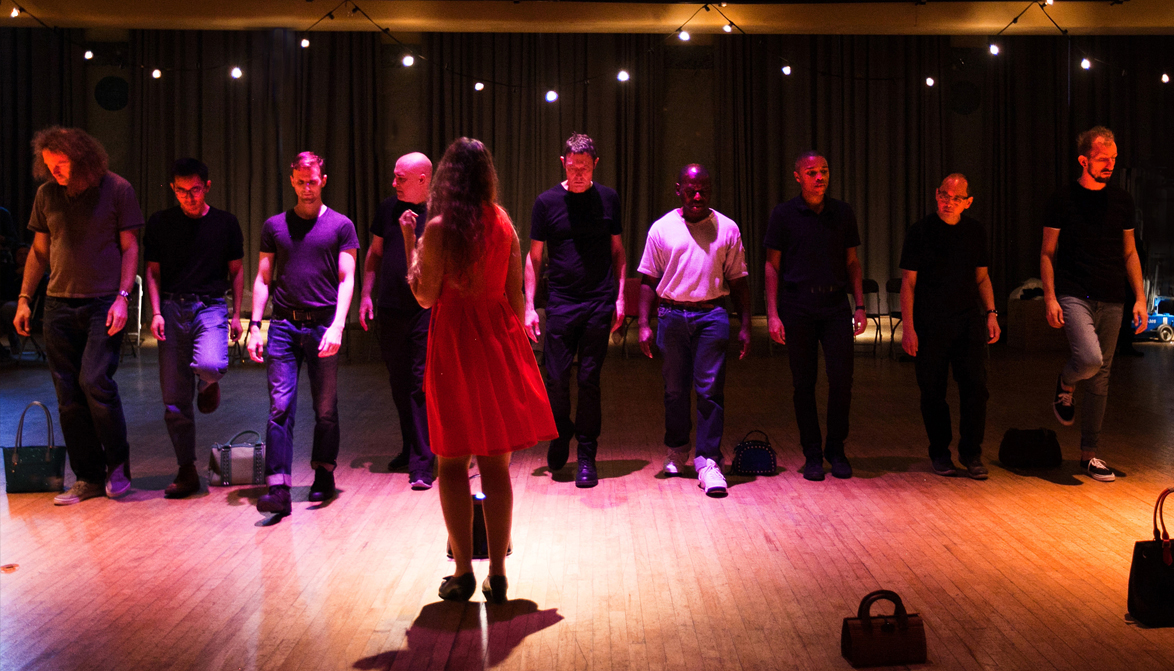 How have you chosen the music for Handbag? Has this remained the same since the very first performance?
When I came up with the idea of women dancing round their handbags, this was all very well but to what music? I went to spend a weekend with a friend in Newcastle who had a vast collection of 70's and 80's disco music and we sat up all night listening to hundreds of different songs and when I heard the opening beats of Michael Jackson's Billie Jean I knew that was the one. This year with the aim to revive and refresh Handbag for Shoreditch Town Hall, the most dynamic way to do this seemed to simply change the music. Once again I listened to so many different types of dance music and nothing clicked until Let's Dance by David Bowie and that was it, Handbag renewed, revived and with a refreshed energy for 2019 and beyond. What is strange was to discover that both Billie Jean and Let's Dance were released within months of each other in 1983 but Let's Dance seems so contemporary, especially for younger participants.
To what extent could Handbag be described as site-specific theatre? How does the location effect the piece?
My site-specific work is inspired by the site itself and is ephemeral as the performance can only take place in that site. With Handbag, the difference is the primary inspiration is the communities themselves as well as the places and spaces in which it takes place. Although originally commissioned for the Battersea Arts Centre Grand Hall, Handbag is re-imagined for every space inside and out where it is performed. Handbag has taken place in theatres, ballrooms, galleries, parks and a women's prison in France. Each location effects the making of the piece and I make sure that there are sufficient site visits by the Handbag team pre-rehearsals so that the performance maintains the integrity of the space in which it takes place.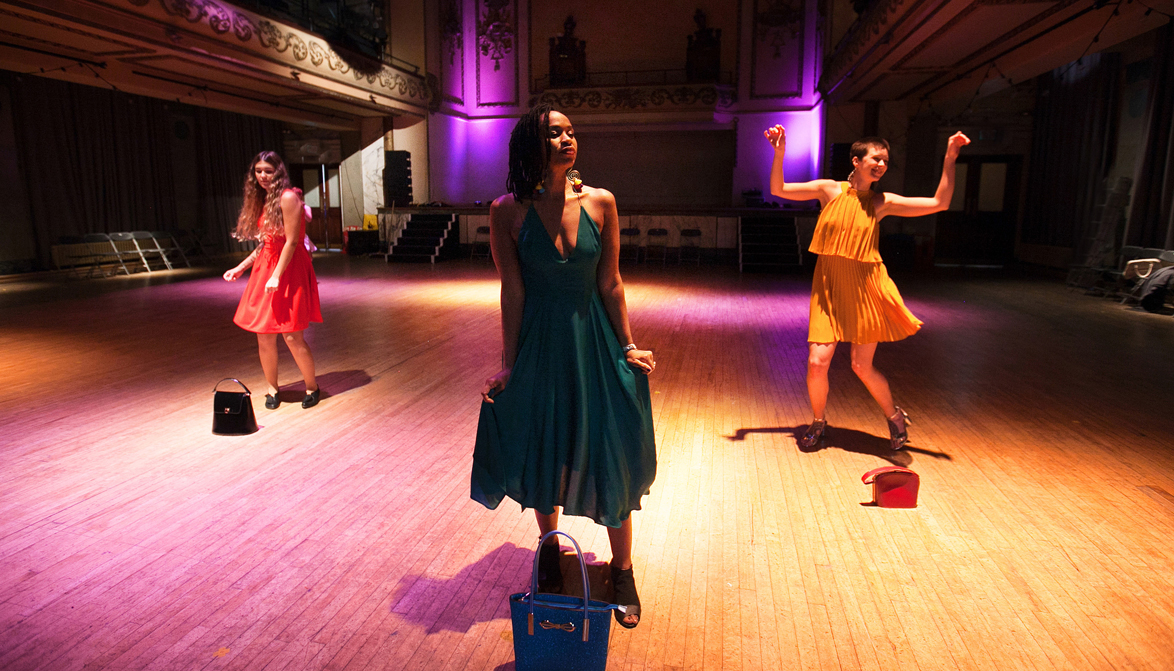 To what extent do performers have creative input on the piece?
Apart from one professional lead performer who travels with the company, all participants are volunteers that are recruited from the area in which the performance takes place. No previous experience is needed to take part. However, Handbag is not a flash mob, it is a performance that is site-specifically re imagined for every space it takes place in, both inside and out. The 15- minute performance is carefully rehearsed with exact timings, and although the women can dance around their handbag in any style they like, exits and entrances and positions are carefully choreographed so that all the volunteer performers both male and female are totally secure in what they do.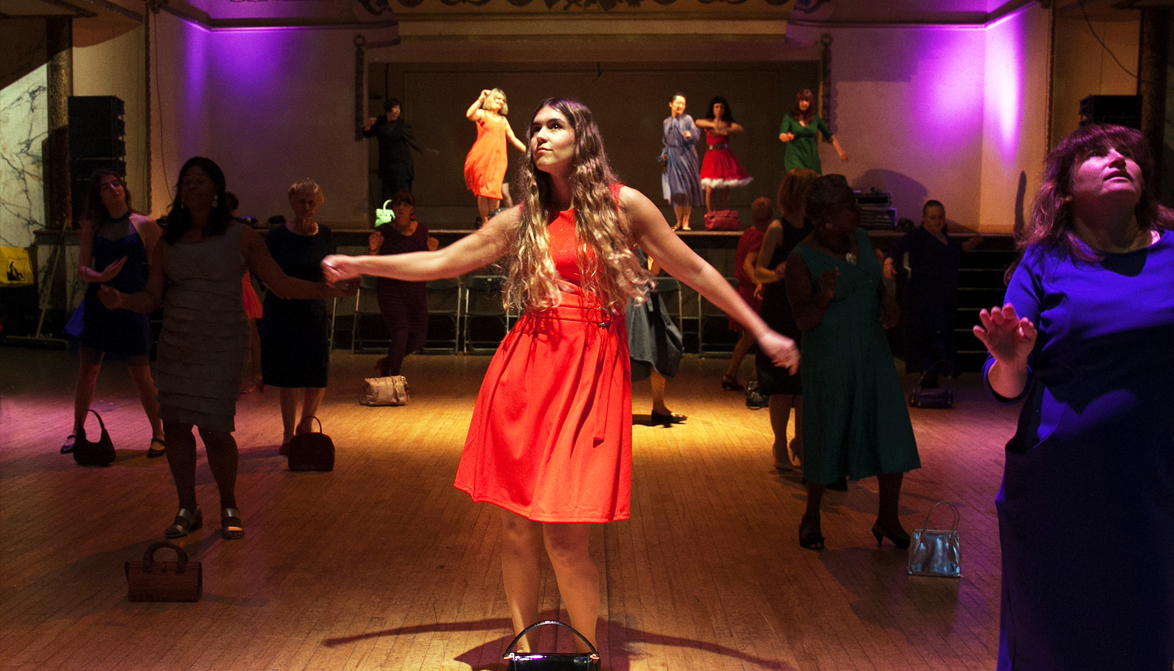 Is there a particular Handbag performance that you feel symbolizes why you continue performances of the piece?
Although I have an emotional engagement with every Handbag performance, I will never forget Handbag taking place in Rennes Women's Prison in France, working with long term prisoners alongside Rennes Town volunteer participants as part of Tombee de la Nuit Festival.  Handbag was created to be a life enhancing joyful participatory performance and as we watched the prisoners be transformed as they danced, I realised Handbag offers hope and joy in these difficult times, enabling participants and audiences to engage in a life enhancing and joyful experience that can also be unexpectedly moving.
Are you interested in creating site-specific theatre? Mountview and Geraldine Pilgrim want to meet you! Join them for a free talk led by Geraldine herself at Shoreditch Town Hall on Wednesday 13 November 2019. Find out more here.