Simon Selmon, former UK and US dance champion, author, choreographer, dance teacher and founder of SwingdanceUK (a man of many talents!), was kind enough to speak to us about all things Swing and about dancing at Shoreditch Town Hall.
Can you tell us about how SwingdanceUK came to be?
We haven't always been known as SwingdanceUK. Back in 1986, I founded the London Swing Dance Society following a trip to New York City where I was introduced to the New York Swing Dance Society. I came from a Rock N Roll and Jive dance background and when I heard that NYC and Harlem in particular was the home to this dance, I decided to discover its roots and learn more about the Lindy Hop and big band Swing music at the source. I had an introduction to NYC Swing teacher Margaret Batiuchok and at her class I met some wonderful people who took me dancing up in Harlem, which was quite a rough place back in the mid-80s, and all over New York. I spent a life-changing holiday Swing dancing, sight-seeing and making new friends, some of whom I am still close to to this day (you see, Swing dancers are a friendly bunch!).
This inspired me to create something similar back home, in London. In 2015, we decided the London Swing Dance Society needed a revamp and since its website and email address were already SwingdanceUK, it felt like the right name to pick.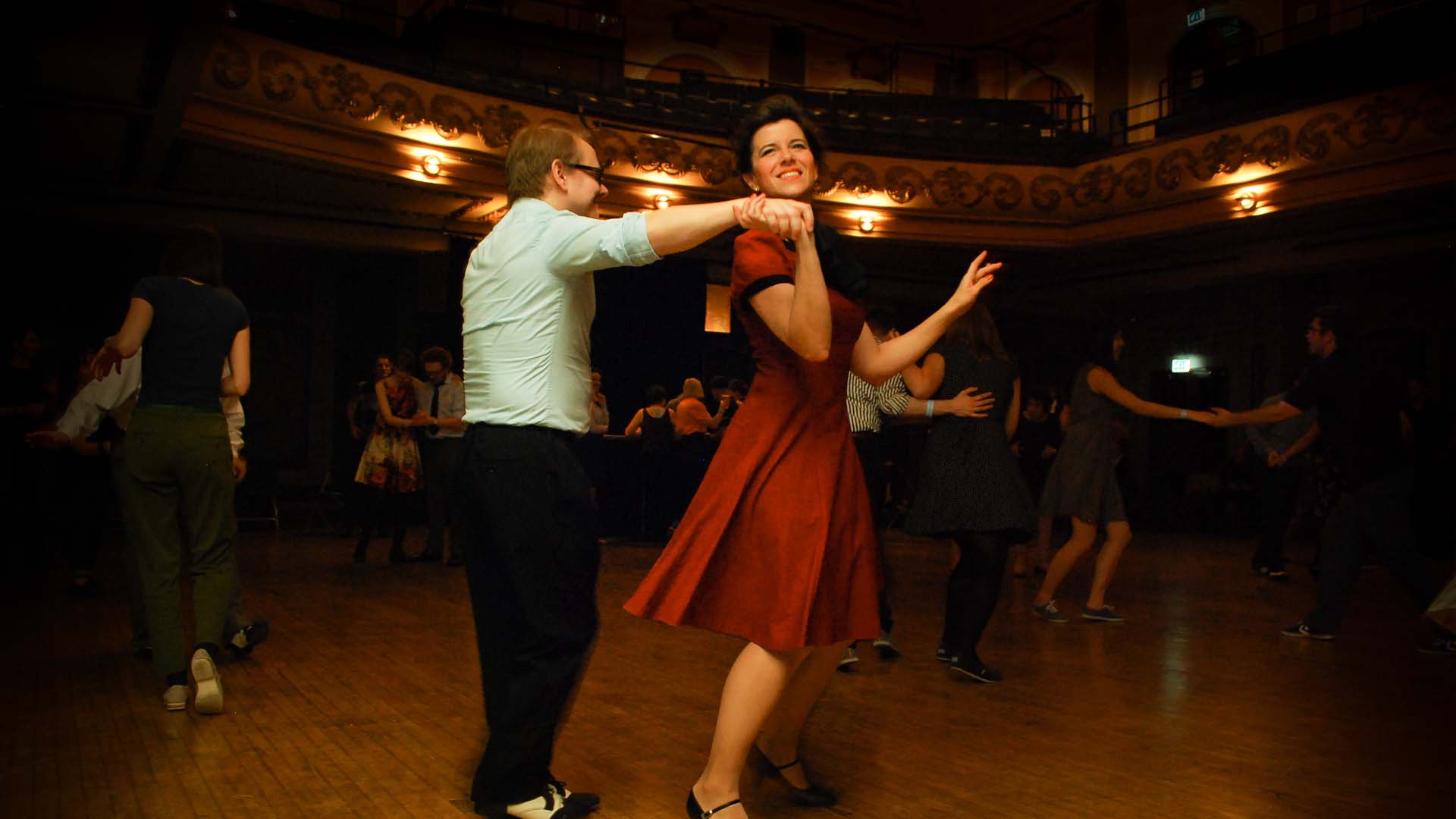 What do you enjoy about the Swing Into Spring/Winter events at Shoreditch Town Hall?
If you ask a Swing dancer what their Nirvana is, their holy grail, their raison d'etre, it's to dance with fellow dance enthusiasts, to a live band, in a beautiful ballroom – Shoreditch Town Hall's ballroom was made for dancing! Just think about how many pairs of dancing feet have strutted, bounced and glided across that historic floor, it cries out 'dance on me!'. Add in a great band like the Swing Ninjas (a vocal-led Swing band mixing New Orleans and Parisian Swing from the 20s, 30s and 40s, who are guaranteed to get your feet tapping) and a good mix of some of London's top Swing dancers and aficionados right through to total beginners who are just trying something different for a fun night out, and you get a real cracker!
What is your favourite dance move?
Asking a Swing dancer to pick their favourite style or dance or move is a bit like asking them to pick their favourite child. The 'Swing Out' is known as the signature step of the Lindy and allows for a lot of musical interpretation yet a 'Tuck Turn' or 'Change Places' as simple as they are, are a staple of every Swing style for a reason. A classic 'Back Charleston' is always a crowd pleaser, yet an 8-count 'Rhythm Walk' with a 'Groucho' Marks styling always gets a smile from my partner and I think 'Peckin'' has to be high on the list of my favourite moves because it's just so silly and you just can't take yourself seriously when you do it.
It takes all these moves together (and more) to create a dance, so instead of picking just one favourite move, I would say that my favourite move is actually a concept: it's whichever move clicks with my dance partner at that particular moment. This is what makes the dance so rich and what I love the most: the ability to improvise and interpret the music. It's the 'Call & Response' nature of the dance that makes it so special, where at a particular moment in a song you hear a break in the music and for a few seconds together create a unique and playful dialogue with your partner.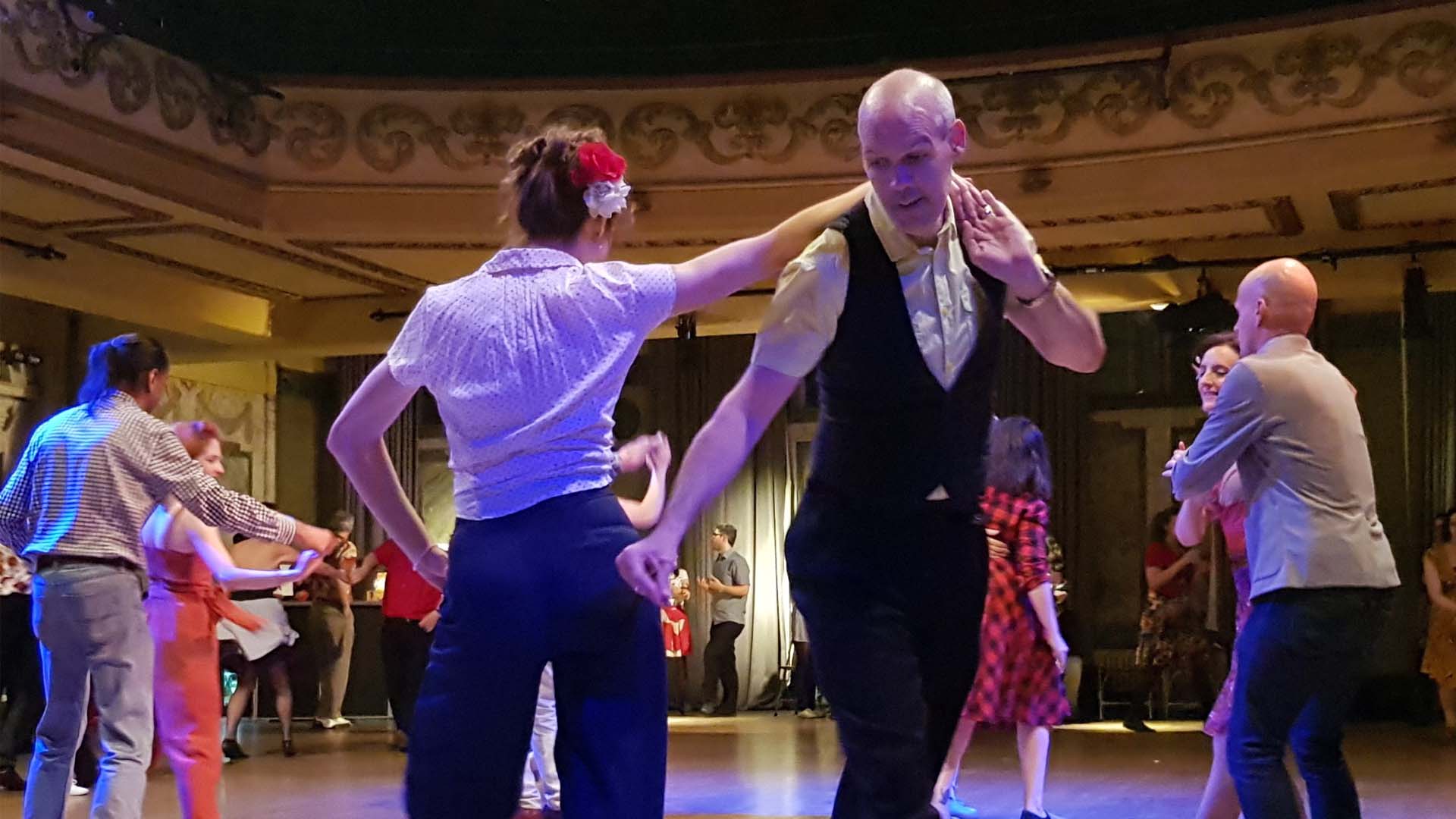 What is your most cherished memory from a "Swing Into" event at Shoreditch Town Hall?
The first time I entered STH, I was really amazed: it's huge, with glamour oozing out of its walls and it transports you from everyday London to somewhere special just by crossing its threshold. It is a dream for a dancer! A particularly unique moment for me is when I DJ between the band sets, when I am up on the stage and get to watch a packed floor of happy faces moving as one, in sync with one another against that spectacular background: it's like watching the ocean waves rolling and bobbing along and it's a truly wonderful sight to behold.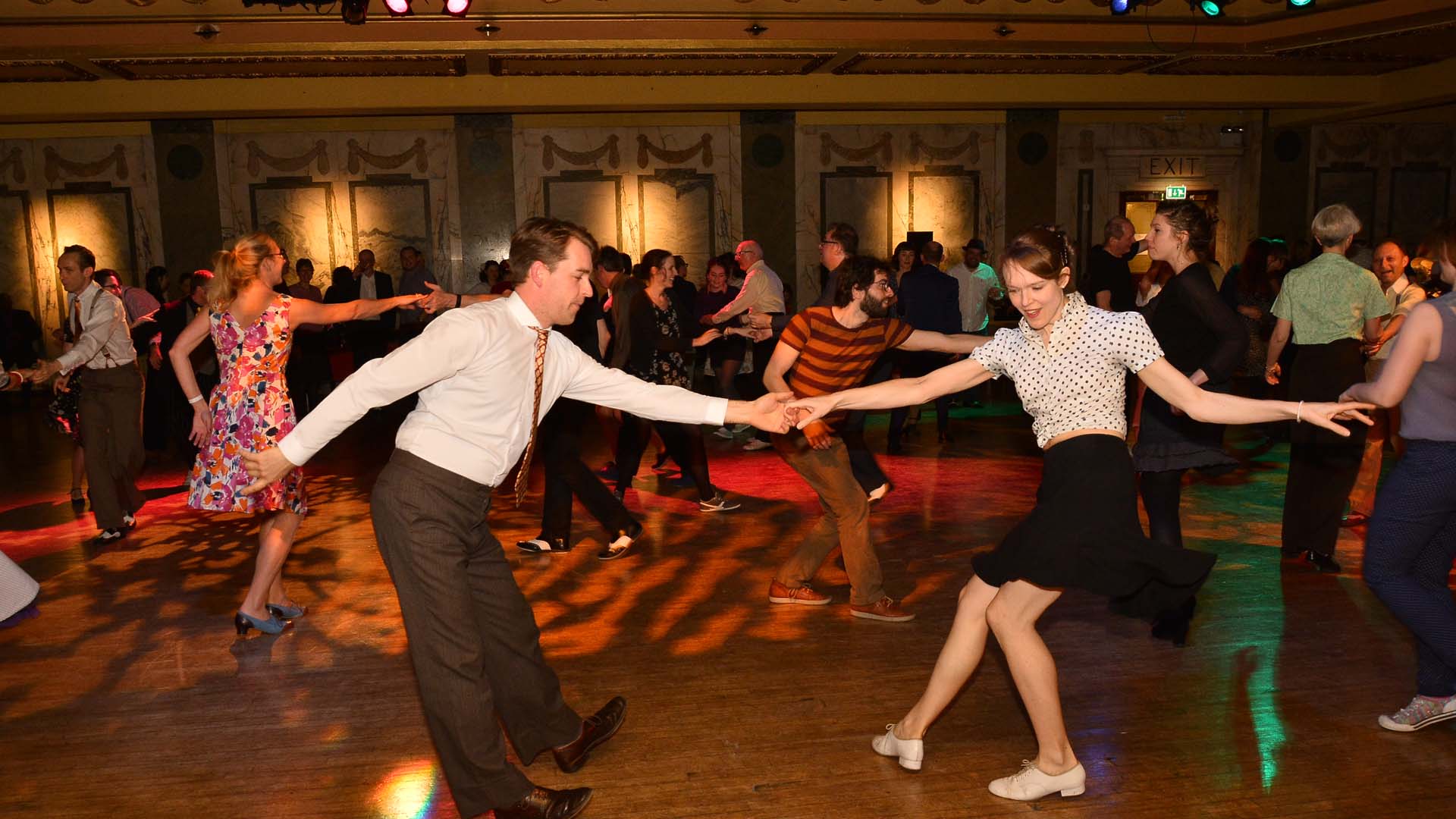 What is your favourite song to dance to right now and why?
Right now, I am big into Fats Waller, a very prolific 30s/40s singer, songwriter and performer. So easy to dance too, it's hard to choose but I could pick 'The Joint is Jumping' because that's what we will be doing very soon at STH!
Don't miss your chance to Swing Into Winter with Simon and SwingdanceUK on Friday 19 November 2021, book here.