What better way to unite the nation than with a telethon? Interactive theatre company TalkShow might be ready to disprove that… We had a chat with the company's co-artistic director Stu Barter about the their new show Telethon, it's themes and BSL integration.
Can you tell us a bit about Telethon and what audiences can expect?
If you come and see Telethon, you'll be part of the 'studio audience' of a TV charity broadcast that begins with good-will and optimism – before skidding badly off the rails! It's a funny, thought-provoking piece about our inability to put differences aside. It's also got amazing video design, original soundtrack, integrated captions & BSL, and a big surprise at the end…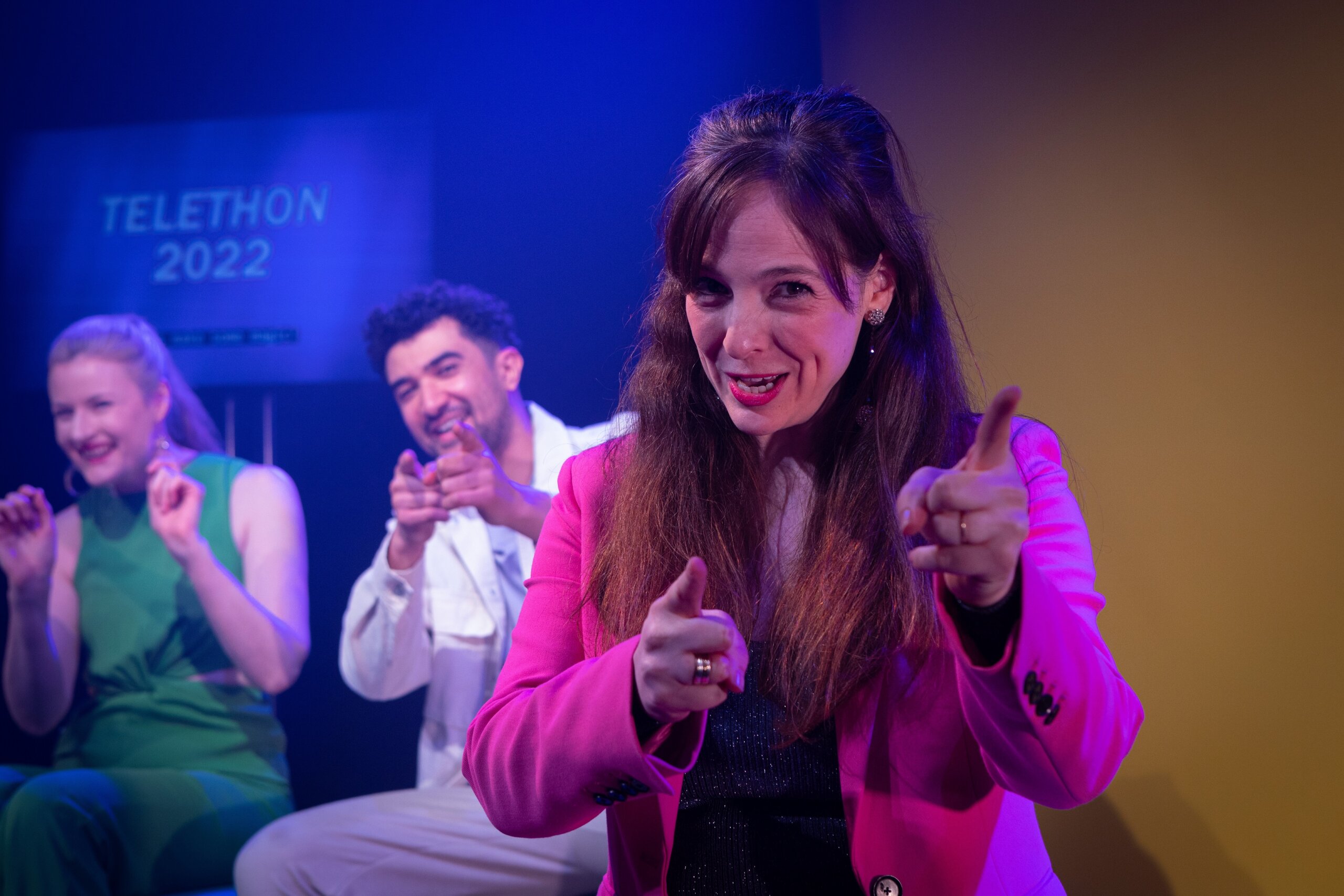 How do you hope audiences will react to the piece?
First and foremost, the piece is bold, engaging and funny, so we hope they react accordingly! We take care in attempting to make audiences feel at ease, and give them an enjoyable experience. After that, we hope the questions the piece poses will resonate with people; questions about morality, goodness and what those things are; whether deep differences of perspective are sustainable in big, broad-church events like TV fundraisers; and whether some mistakes are unforgivable.
What made you decide to caption and involve BSL in Telethon?
We've been working with captioning and BSL right from the very first R&D of Telethon back in 2019, and the inspiration came from a collaboration with Emily Howlett that I worked on in 2017. Emily is a deaf artist, and I collaborated with her on a show which featured integrated captions. Before then I'm not sure I was even aware of the idea of integrated access, and I loved the idea that making a show accessible can be part of the integral design, not just something added on after it's finished. We were keen to integrate this approach into TalkShow's work, so we worked with Emily as an access consultant throughout making Telethon, and because we knew the show would involve video design, integrating captioning seemed to make sense. We also felt the captions could operate a bit like an 'auto-cue' that presenters would have anyway in a TV studio.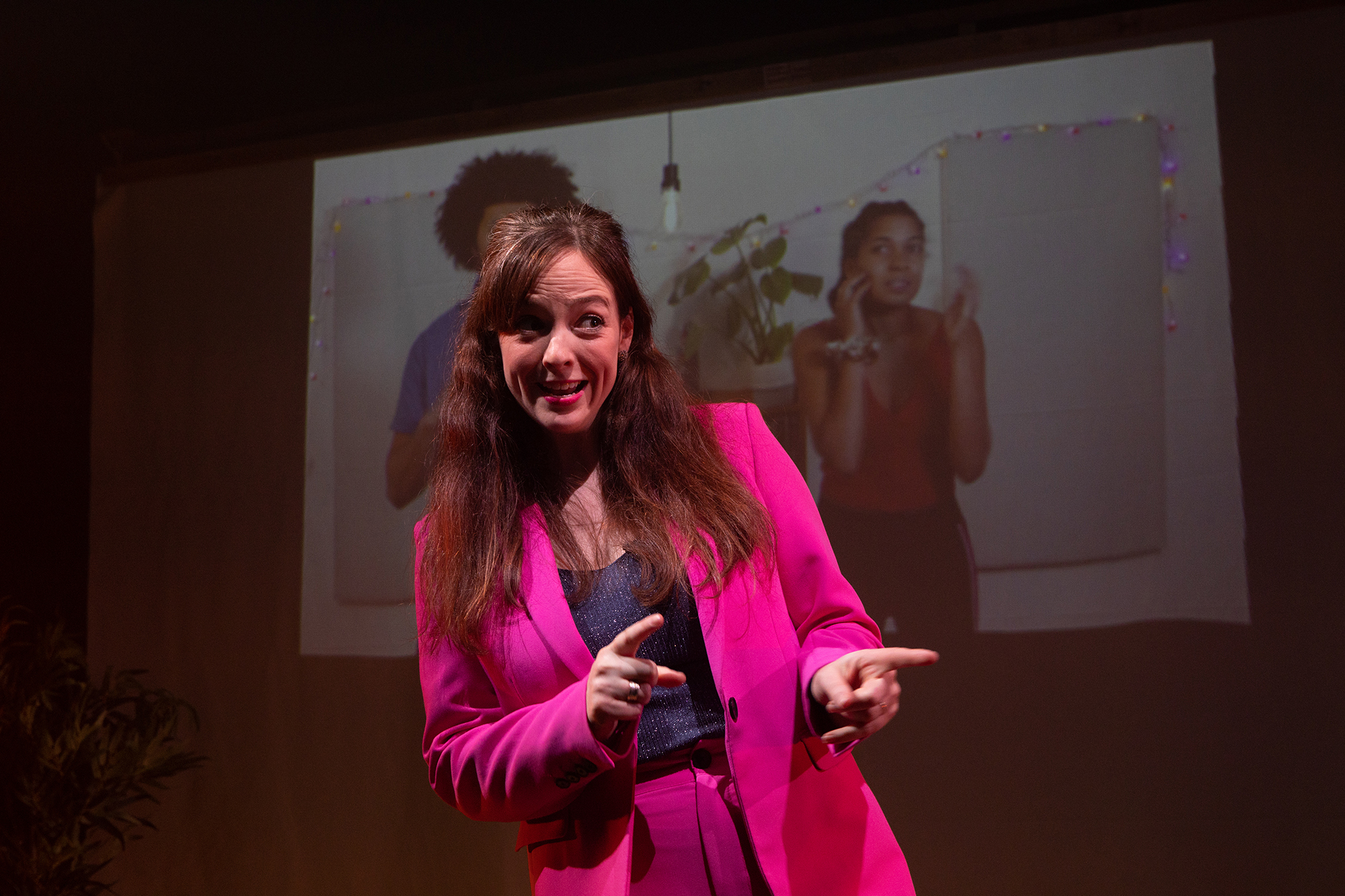 How did you go about integrating BSL into the performance?
The BSL is primarily a creative choice, and we worked with Brian Duffy, another brilliant deaf creative, to help integrate its use into the piece. The character of Erica in Telethon is a CBeebies host, who uses BSL as part of her show exploring science with children. When she is asked to be a host of the Telethon (her biggest gig yet!), she incorporates BSL into moments when talking to the audience. She also steps in and interprets when Melissa (played by the brilliant deaf performer Caroline Parker) videos in for a live interview – however this goes badly wrong for Erica! Although the BSL is used creatively, there are a few moments when it also helps the access too. For example, when the hosts are talking to the audience. Some of these exchanges can't be captioned, as they are totally unscripted. Having a character who is fluent in BSL helps to cover these moments from an access perspective.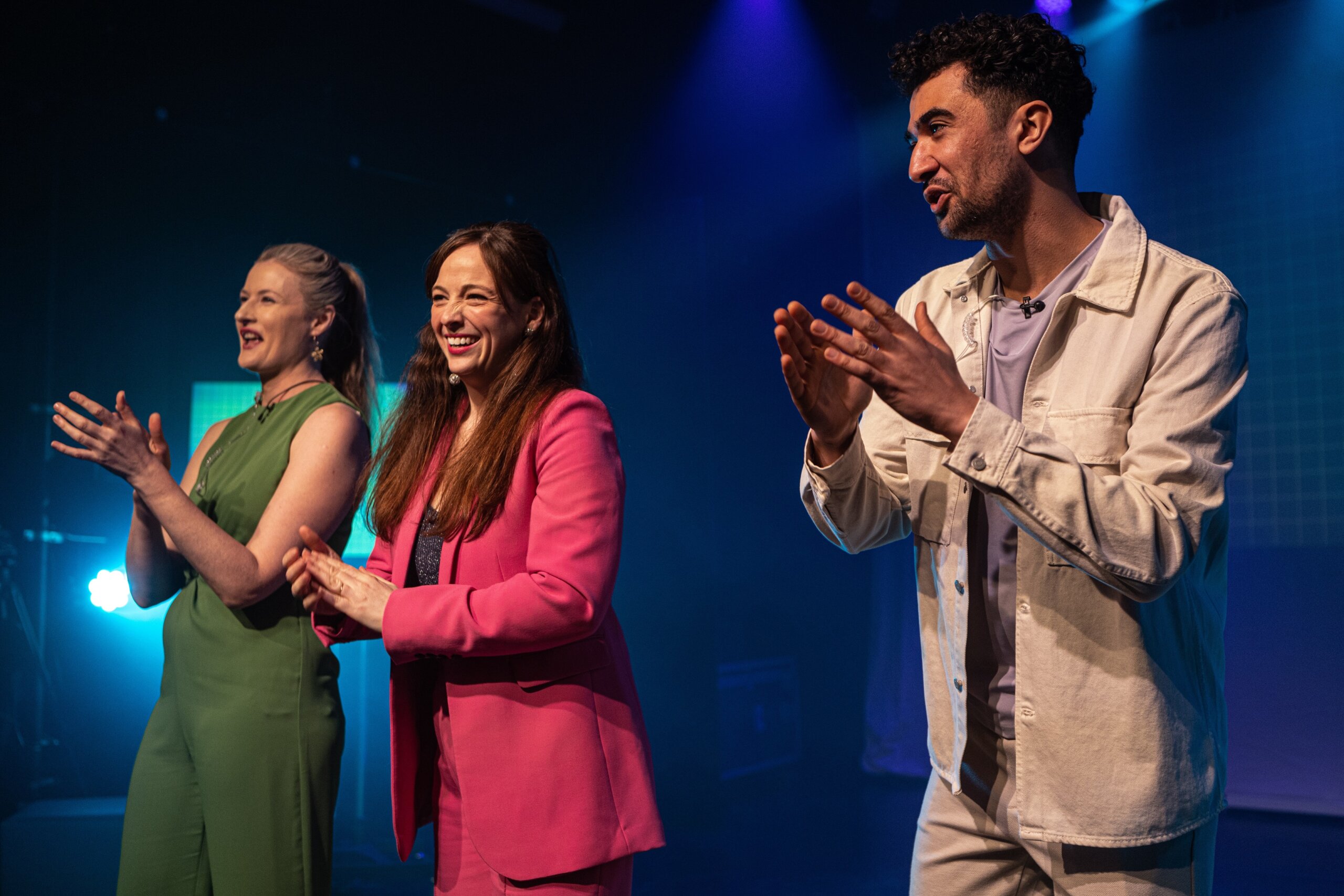 Can you tell us about the public morality and other psychological themes involved in the piece?
Public morality is everywhere and we've been struck recently by how morally divided we seem, at times. When we first had the idea for the show, it was Brexit that was dividing us, but since then there's been the pandemic response, 'culture wars' and many other issues that have pushed people into different camps. Perhaps it's how these conversations sometimes play out online, but it felt like these divisions were getting more embittered, and there was a general trend toward being less accepting of different perspectives on an issue, and more likely to assume bad-faith (stupidity, selfishness, bigotry etc) as the core reason for a different view.
Within that, there are always things that people (ourselves included) truly believe are simply right or wrong. A Telethon is something that sets out to be morally good, so it seemed perfect to explore the idea of what is actually 'good' or 'bad', and how much of that is perspective, and the extent to which moral issues are absolute. It's also about that peculiar psychology we have of wanting to call-out perceived hypocrisy, especially when someone sets out to do something good, and the related question of whether altruism is just self-serving, and if that even matters if the outcome is good? These are the questions we hope audiences will ponder – and we hope they'll thoroughly enjoy the process!
Telethon by TalkShow will be at Shoreditch Town Hall 30 March – 14 April, book your tickets here.