We caught up with Ella Robson Guilfoyle, who co-directs Barely Methodical Troupe's SHIFT, along with Melissa Ellberger and the cast. She told us about how the show was created and what audiences can expect when it opens in our Assembly Hall on Tuesday 7 May.
Can you tell us where the concept for SHIFT came from?
During the rehearsal process we spoke a lot about relationships and how we seek them out in order to find solid footing and stability. These connections are often delicate and flexible, creating an ever changing landscape that shifts as you try to navigate it. This quality can be found in the seemingly strong, but unpredictable nature of the elastic used by the performers to explore a new physical language together, manipulating body and space.
How did you decide on the name SHIFT?
We wanted to play with the idea of contrasting qualities. Not only do the performers physically shift through the performance space, they also create shifts in dynamic and mood, continually adapting to an atmosphere that flickers from dangerous to joyful and all the stages in between.
The cast has changed slightly since the piece was performed at the London International Mime Festival. How has this altered the work?
Elihu Vasquez is a breakdancer and was part of the creation process of the show. This meant that he was present in the rehearsals where we devised the material and so he contributed not only to the physicality of the work, but also the personality and relationships that hold it together.
Beren D'Amico brings a new dimension and set of skills to the piece, an experienced acrobat with exciting movement quality. I felt that it was important we create a new solo for him rather than asking him to step into Elihu's material. With devised work it is really important that performers are attentive to the quality of the atmosphere in each scene, but also that they have room to bring their own experience and responses into the work and make it their own.
As a result, the show has a slightly different feeling and pace in places as new relationships and moments are blossoming. This keeps the work alive and evolving, an ever-shifting landscape.
SHIFT is described as mixing "the show-stopping acrobatics of circus with the emotional punch of theatre". What makes Barely Methodical Troupe different from traditional circus acts?
BMT is part of a movement of circus companies who are concerned with creating work that is not episodic or act based and has a super structure or narrative element. I met Beren, Charlie and Louis when I was teaching movement on their degree course at NCCA and have been working with them ever since generating choreography and working as associate director on all their shows to date.
The people the company choose to collaborate with help them to define and develop the unique and charming performance style for which they have become known. My preoccupation is with continuing to challenge their movement quality and interrogate the integration of acrobatics and dance as well as exploring methods of generating movement that communicates an idea or narrative.
Working with Ben Duke on Kin encouraged us to explore a much more theatrical landscape, asking the performers to think about often uncomfortable and challenging emotions and physical relationships and Melissa Elberger brought her background in breakdance and circus with huge strength, physical impact and powerful energy.
The company's ability to absorb these wonderful offerings and their interest in learning new skills and disciplines, allowing them to grow within the work of the company is what excites me about working with them.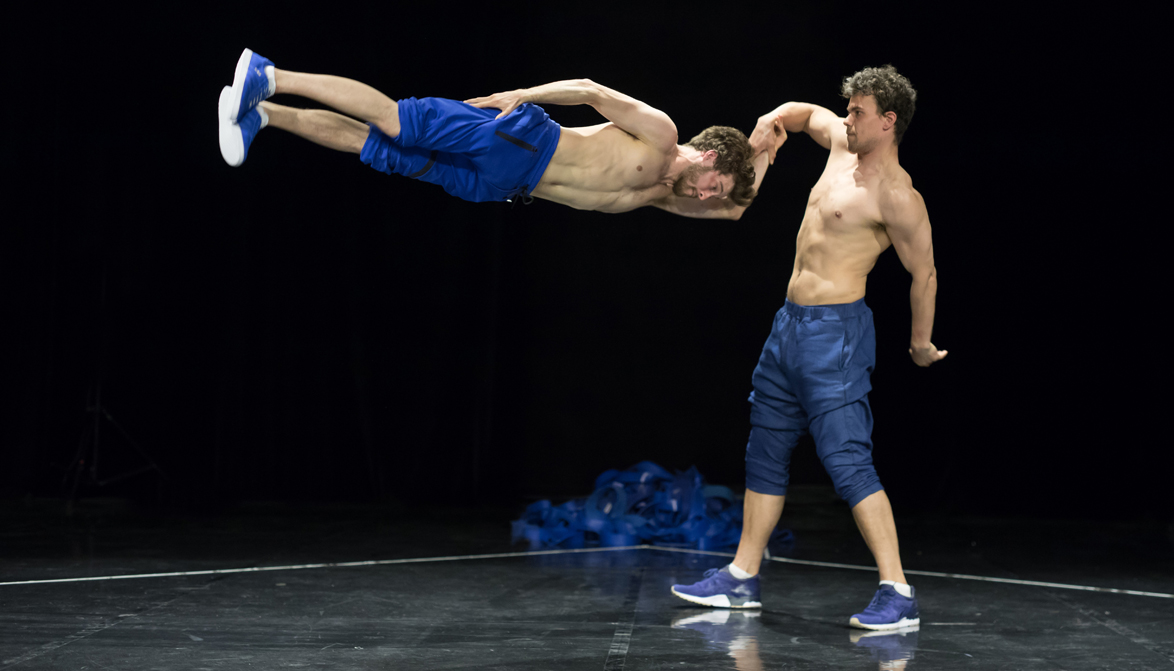 The show blends many different circus skills: from acrobatics to cyr wheel. Could you tell us a little about your background and why you work in this area?
I trained as a dancer and choreograph and direct for circus, theatre, fashion and large-scale events. I also used to be part of the youth circus at what was then called Circus Space – now NCCA – so when I found myself teaching movement on the degree and choreographing the degree shows at The National Theatre's Watch This Space, it felt like a my dance and circus training had found each other at a party!
Since then I have been working predominantly in contemporary circus, which I find straddles a really exciting area of physical work that feels like dance theatre, or as I often think of it – extreme physical theatre! I enjoy the fact that you can explore narrative ideas, using text and movement and that the movement itself is often so reliant on a relationship with another person or with equipment.
Working with circus disciplines brings a massively exciting element of risk but also restrictions and rules to what you can create, but within these parameters, there is room for challenge and problem solving which I find hugely satisfying and stimulating. How do you suddenly make sense of a cyr wheel appearing? Or the terrifying teeter board? How do I create a scene that feels fresh and inventive and part of the world of the work and ideas we are exploring?
It's an area that is always evolving and I guess this is why it appeals to me. I enjoy working with all kinds of equipment and bodies – trained and untrained, it's a thrilling puzzle to unlock someone's potential movement and play with it!
SHIFT is also notable for its excellent use of music. Can you tell us about some of the song choices and why you think they fit the piece so well?
I use many different pieces of music in rehearsals to stimulate a particular atmosphere that supports the idea or quality of movement we are working on. This often gets whittled down to one track that acts as an extension of, or as a base for, the physicality. You want the music to hold the action on stage and allow the audience to connect with the movement.
The type of sound in SHIFT is quite varied, which supports this idea of a shifting landscape, moving from one distinct quality to another in an instant. Some of this sound has been created by company member Louis Gift and sound designer Tom Parkinson and some is pre-existing music.
SHIFT opens at Shoreditch Town Hall on Tuesday 7 May and runs until Saturday 18 May. Click here to book tickets.